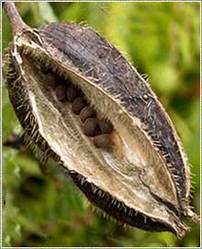 Botanical Name : Abelmoschus Moschatus
Family Name : Malvaceae
Common Name : Ambrette Seeds, Hibiscus Abelmoschus, Musk Mallow, Musk Okra, Ornamental Okra, Annual Hibiscus, Yorka Okra, Galu Gasturi, Bamia Moschata
Part Used : Seeds, Seeds Oil
Habitat : Cultivated in india
Product offered : Seeds, Oil
Uses :
Ambrette seeds come from a tropical hibiscus. The seeds contain an oil with a fatty-musky, slightly ambery odour. Its most important odoriferous components are the macrocyclic musks 5(Z)-tetradecen-14-olide and 7(Z)-hexadecen-16-olide, also called ambrettolide [6]. The oil was formerly highly appreciated in perfumery, but has now been largely replaced by synthetic musks. The seeds have a strong aroma of musk, and have been known as grani moschi. Relaxing and stimulating powers are attributed to them; and some cases, apparently authentic, have been recorded, in which they seemed to have a decided influence in casting out the poison of snakes. Possibly a further and more careful investigation of their properties, would show them to be an agreeable and useful article in cases where mild nervous prostration required a diffusible stimulant and relaxant. At present, they seem to be used for nothing beyond giving flavor to the coffee of the Arabs.Seeds are used as an inhalation in hoarseness and dryness of throat.Leaves and roots are used in gonorrhoea and venereal diseases.