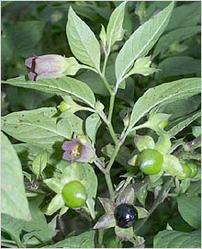 Botanical Name : Atropa Belladonna
Family Name : Asteraceae
Common Name : Belladonna, Deadly Nightshade, Witch's Berry, Death's Herb.
Part Used : Leaves And Roots
Habitat : Found in shade forests lies between 2,500-3000 m.
Product offered : Leaves
Uses :
It is narcotic, mydriatic, antidote, diuretic, analgesic, antispasmodic, laxative, hallucinogenic and sedative. It is mainly used to dilate pupils in eye diseases, bladder and kidney diseases, bladder and ureteral spasms, intestinal and biliary colic, cold, flu, pain and asthma. It is also helpful in airway obstruction, ear infection, headache, nervous system disorders, premenstrual syndrome, radiation burn and menopausal symptoms. It is applied as a lotion in case of neuralgia, gout, rheumatism and sciatica. It is also used for the treatment of irritable bowel syndrome and acute enterocolitis and as an adjunctive therapy in the treatment of duodenal ulcers. Extract is having Pseudoephedrine-like qualities and thus is used for clearing up nasal and other passages where mucus forms.