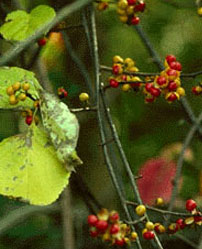 Botanical Name : Celastrus Paniculata
Family Name : Celastraceae
Common Name : Malkangani , Jyotishmati, black oil plant, climbing staff tree, and intellect tree
Part Used : Seeds
Habitat : The climbing shrub grows throughout India at elevations up to 1,800m
Product offered : Seeds, Roots
Uses :
It is a strong antioxidant, aphrodisiac, stimulant, digestive, cardio and brain tonic also known as Jyotishmati. The oil extracted from seeds is bitter, thermogenic and improves memory. It is highly beneficial in stimulating intellect and sharpening the memory.
The seeds and its oil are used for the treatment of Sciatica, Amnesia, Leprosy , Pneumonia, Pleurisy, Anaemia, Loss of appetite, Flatulence, Sexual weakness, Amenorrhea, Leucoderma and Gout etc.