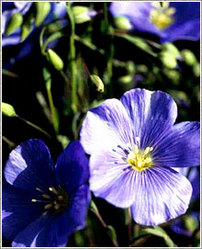 Botanical Name : Linum Usitatissimum
Family Name : Linaceae
Common Name : Flax Seeds, Linseed
Part Used : Flax Seeds, Flax Seed Oil, Leaves & Roots.
Habitat : Cultivated throughout india.
Product offered : Leaves, Seeds, Oil
Uses :
It is used internally in habitual constipation, functional disorders of the colon resulting from the misuse of laxatives and irritable colon, as a demulcent preparation in gastritis and enteritis.Externally, the powdered seeds or the press-cake are used as an emollient, in poultices for boils, carbuncles and other skin afflictions. The oil pressed from the seed (linseed oil) has been used for a variety of industrial purposes and the oil-free meal could be fed to livestock. In addition to usage of seed for industrial purposes, whole flaxseed is used extensively in baked goods in Europe. They are even used to stuff pillows for Therapeutic purposes. Seed poultice is also useful in bronchitis and other deep-seated inflammation is recommended for gouty and rheumatic swellings. The mucilage is dropped into the eye in irritable condition of conjunctiva.