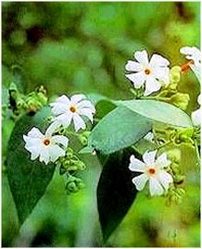 Botanical Name : Nyctanthes Arbortristis
Family Name : Oleaceae
Common Name : Night Jasmine, Coral Jasmine
Part Used : Flowers, Leaves, Seeds,
Habitat : Cultivated in gardens in india
Product offered : Flowers, Leaves, Seeds
Uses :
The leaves are antibacterial, antiinflammatory and anthelmintic. Further, a dye extracted from the corolla tube is used to lend colour to Tussore Silk. The flowers are bitter astringent, opthalmic, stomachic and carminative. It is an expectorant, bitter and tonic, febrifuge, and mild purgative. It is used in bilious and obstinate remittent fever, sciatica, and rheumatism. It is also very useful in constipation of children. The leaves are bitter and acrid. It is being used to treat fever, fungal skin infection and also dry cough. It is used in treatment of bronchitis and also as an antidote to snakebite.