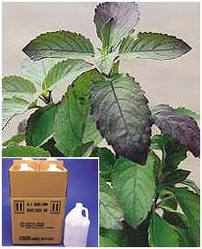 Botanical Name : Ocimum Sanctum Extract
Family Name : Tannins 2%, Tannins 5%, Tannins 10%, Urosolic Acid 1.5%
Common Name : Basil, Sacred Basil, Holy Basil
Part Used :
Product offered : Main constituents of basil are tannins, alkaloids and volatile oil. Oil mainly consists of eugenol, ursolic acid, rosmarinic acid, thymol, linalool, methyl chavicol, citral and beta-caryophyllene.
Uses :
Tannins: 1. It efficiently scavanges reactive oxygen species and free radicals. 2. It inhibits lipid peroxidation by acting as a chain breaking antioxidant. 3. It inhibits liver microsomal monooxygenase activities. 4. It significantly prevents the rise in serum glutamic oxalacetic transaminase (SGOT) activity and liver necrosis. urosolic acid: 1. It provides significant protection of the mast cell membrane. 2. It prevents cell degranulation and decreases the quantity of histamine released. 3. It increases the white blood cell (WBC) count, enhances bone marrow cellularity and alpha-estrase positive cells. 4. It exhibits both cytotoxic and cytostatic activity.