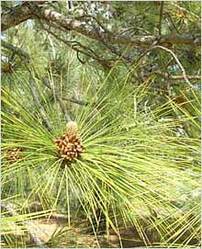 Botanical Name : Pinus Roxburghii
Family Name : Pinaceae
Common Name : Chir Pine, Three Leaved Pine, Himalayan Long Leaved Pine.
Part Used : Wood, Oleoresin And Oil
Habitat : Found in himalayan region at 450-2,200 m elevation, from kashmir to bhutan.
Product offered : Leaves, Oil, Gum Resins
Uses :
The wood is acrid, bitter, sweet, thermogenic, emollient, aromatic, antiseptic, deodorant, haemostatic, stimulant, anthelmintic, digestive, liver tonic, diaphoretic and diuretic. It is useful in eye, ear and pharynx diseases, foul ulcers, haemorrhages, haemoptysis, worm infection, flatulence, liver diseases, bronchitis, inflammations, skin diseases, pruritus and giddiness. Oleoresin is acrid, bitter, thermogenic, expectorant, anodyne, anti-inflammatory, purgative, rubefacient, vermifuge and demulcent. It is useful in cough, cold, asthma, chronic bronchitis, inflammations, liver and spleen diseases, kidney and bladder infections, gonorrhea, scurvy, epilepsy, haemorrhoids and tuberculosis. Oil obtained is utilized in rheumatic problems, arthritis and neuralgia. Oil is also an ingredient in many ointments, and lotions for treating aches and pains. Rosin obtained is used in paper soap, cosmetics, paint, varnish and polish industries. It is used in the manufacture of disinfectants, insecticides and denaturants. It is also used to arrest minor haemorrhages in tooth – sockets and nose.