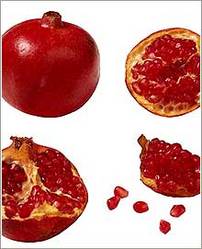 Botanical Name : Punica Granatum
Family Name : Puniacaceae
Common Name : Pomegranate, Anar
Part Used : Seeds,flowers
Habitat : Commonly cultivated as ornamental and fruit tree.
Product offered : Leaves, Seeds, Fruit, Oil, Flower
Uses :
A decotion of seed is used to treat syphilis. Juice used to treat jaundice and diarrhoea. Juice of flower is used to treat nose bleeds. The fruit pulp and the seed are stomachic. Dried, pulverized flower buds are employed as a remedy for bronchitis. Seeds are used as a seasoning in dal, fried samosa, stuffings and chutneys.