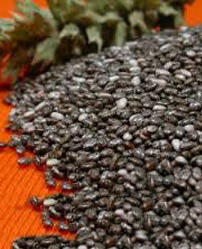 Botanical Name : Salvia Hispanica
Family Name : Lamiaceae
Common Name : Chia, Salba Seeds, Sabja Seeds
Part Used : Seed
Habitat : It is widely cultivated in central and southern mexico, guatemala & india.
Product offered : Seed
Uses :
Chia seeds can help reduce blood pressure. The seeds contain one of the highest known plant sources of essential fatty acids (omega-3 and omega-6). EFAs cannot be synthesized by our bodies however, it is very important that we get enough to support our immune, cardiovascular, nervous and reproductive systems. Chia seeds slow down the rate at which complex carbohydrates are digested and then assimilated into the body. The soluble fiber helps to stabilize blood glucose levels resulting in steady, sustained energy. Chia seeds are a balanced blend of protein, carbohydrates, fats and fiber. A number of arthritis sufferers have reported reduced pain and inflammation after a few weeks of taking Chia seeds. The high concentration of omega-3 helps to lubricate joints and keep them supple. The essential fatty acids contained in Chia seeds helps to boost metabolism and promote lean muscle mass. The seeds are sometimes added to food to provide bulk and nutrients while adding very few calories. For these reasons, many people have found Chia quite useful in weight loss and weight maintenance.
Chia seeds contain strontium which helps to assimilate protein and produce high energy. Chia seeds are an excellent source of antioxidants containing even more antioxidants than fresh blueberries. The high amounts of antioxidants in Chia seeds also keeps the oils from going rancid – contributing to a long shelf life.
Chia Oil is good sources of omega-3 fatty acids, also is used as Skin conditioning, Moisturizing, Astringent.