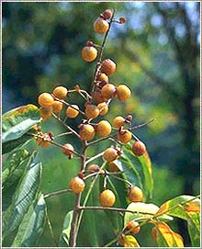 Botanical Name : Sapindus Mukorossi
Family Name : Sapindaceae
Common Name : Ritha, Soapnut
Part Used : Soapnuts, Soapnut Shells, Soapnut Shells Powder
Habitat : Through out india, nepal in lower forests.
Product offered : Seeds, Fruit, Oil, Hulls
Uses :
Soap nut is used in cleansing lotion, protein shampoo, protein shampoo with conditioner. Soap nut contains a high level of saponins. It is antibacterial, mild foaming agent and cleanser, . Soapnut powder is used to cleanse hair, skin and laundry. Helpful in removing stains from hands, may soothe the eczema, psoriasis, itchy and sensitive skin. Soapnut is an excellent hair tonic. Soapnut extract comes from the fruit of the Soapnut tree. The pulp of the fruit contains a high level of natural foaming agents. This extract can be used to wash skin and hair. Soap nut when added to a facial mix of milk powder and clay to provide delicate cleansing of the skin, it is added to salt scrubs to add cleansing action. The saponin from the soapnuts is used as a textile auxiliary and in preparation of toothpaste. Useful for treating a number of diseases like common cold, pimples, epilepsy, constipation, nausea, etc.