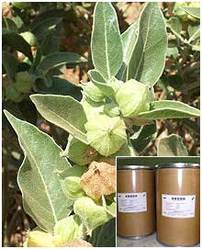 Botanical Name : Withania Somnifera Extract
Family Name : Alkaloids 1%, Alkaloids 2%, Withanolides 1.5% & Withanolides 2%
Common Name : Withania, Winter Cherry And Indian Ginseng
Part Used :
Product offered : Main chemical components are glycosides, withanolides, withasomnine, hentriacontane, dulcitol, withaniol and withaferin.
Uses :
Alkaloids: 1. It stimulate the generation of cytotoxic t lymphocyte thus reduces tumor growth. 2. It enhances the proliferation of lymphocytes, bone marrow cells and thymocytes. 3. It enhances the phagocytic activity of peritoneal macrophages. 4. It enhances cytokine production and stem cell proliferation and its differentiation. withanolides: 1. It significantly up-regulate the activity of t-helper cell. 2. It inhibits the growth of human tumor cell line. 3. It improves bone calcification and act as potential agent in the treatment of osteoporosis. 4. It increases the levels of corticosterone in the adrenal glands of stress.