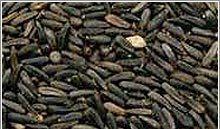 Botanical Name : Hyoscyamus Niger
Family Name : Solanaceae
Common Name : Henbane, Niger Seed, Bird Feed, Black Henbane, Common Henbane
Part Used : Seeds
Habitat : It is cultivated in asia, europe, north-africa, england and germany
Product offered : Seeds
Uses :
It is widely used as a nutritious Bird feed. Gastric, or intestinal cramps, diarrhea, neuralgia, cough hysteria, manis, skin inflammation and boils. Niger seeds has anodyne, narcotic and mydriatic properties, employed as a sedative in nervous infections. In veterinary practice used as urinary sedative. The seed is used in the treatment of asthma, cough, epilepsy, myalgia and toothache. The plant is used internally in the treatment of asthma, whooping cough and motion sickness.