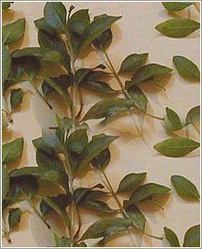 Botanical Name : Lawsonia Inermis
Family Name : Lythraceae
Common Name : Henna, Mehandi
Part Used : Roots, Leaves, Flowers, Seeds
Habitat : In india, it is scarcely present in dry deciduous forests and cultivated as hedge plant.
Product offered : Leaves, Seeds, Oil
Uses :
Roots are bitter, refrigerant, depurative, diuretic, emmenogogue and abortifacient. It is useful in burning sensation, dipsia, leprosy, skin diseases, amenorrhoea and dysmenorrhoea. It is also useful in premature graying of hair. Leaves are bitter, astringent, acrid, refrigerant, diuretic, expectorant, anti-inflammatory, constipating, febrifuge and liver tonic. It is useful in wounds, ulcers, burning sensations, inflammations, scabies, leprosy, leucoderma, boils, amenorrhoea, dysmenorrhoea, fever, ophthalmia, haemorrhages, splenopathy and strangury. Flowers are cardiotonic, refrigerant, febrifuge and tonic. it is useful in cephalagia, burning sensation, insomnia and fever. Leaves are useful in wounds ulcers strangury cough, bronchitis, dysentery etc. It lowers body temperature to soothe headaches, fevers and burning feet.