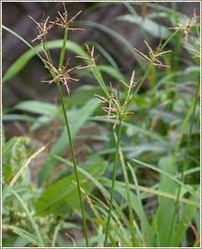 Botanical Name : Cyperus Rotundus
Family Name : Cyperaceae
Common Name : Nutgrass, Coco Grass.
Part Used : Rhizomes
Habitat : Weed found all over india.
Product offered : Rhizomes, Oil
Uses :
The decoction of the roots and tubers are excellent antidote to all poisons. A paste of the fresh tubers applied to the breast acts as an effective galactagogue. The root is often used for developing high memory. This herb also harmonizes the liver, spleen, and pancreas. The grass is anthelmintic, anti-fungal, anti-parasitic, anti-rheumatic, antispasmodic, aphrodisiac and astringent. It cures kapha and pitta disorders, dyspepsia, vomiting, indigestion, thirst, worm troubles, cough, bronchitis, dysuria, and poisonus affections. It is used as an insect repellent, for perfuming clothing.