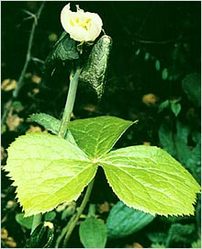 Botanical Name : Podophyllum Emodi
Family Name : Berberidaceae
Common Name : Indian Podophyllum, Himalayan May Apple.
Part Used : Rhizomes, Roots, Fruits.
Habitat : Distributed in northern himalayan region from kashmir to sikkim, abundantly in fir forest in kashmir.
Product offered : Fruits
Uses :
It is cholagogue, purgative, alterative, anthelmintic, emetic, bitter, bilious, antirheumatic, hydragogue, vermifuge and cytostatic. It is mainly useful in the treatment of intestinal worms, for treating warts, tumors and posses anti-cancer properties. It also used as hepatic stimulant. It exerts a powerful influence upon the whole glandular system.