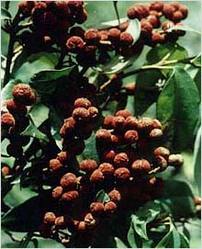 Botanical Name : Mallotus Philippinensis
Family Name : Euphorbiaceae
Common Name : Monkey-puzzle, Monkey Face Tree
Part Used : Glands And Hairs From The Capsules Or Fruits.
Habitat : Found throughout tropical regions of india.
Product offered : Seeds, Fruits
Uses :
The reddish-brown glandular hairs are acrid, thermogenic, strong purgative, digestive, lithontriptic, styptic, strong vermifuge, alexipharmic, depurative, cathartic and . They are useful in vitiated conditions of kapha and vata. It is used against intestional tapeworm, constipation, flatulence, scabies, wounds, ulcers, cough, renal and vesical calculi, hemorrhages, and other parasitic skin diseases. Also a good source of Kamala dye which is used in coloring silk and wool, as anti-oxidant for ghee and vegetable oils. Oil is used as hair-fixer and added in ointment, seed oil is used in paints and varnishes, seed cake is used as manure, wood pulp is suitable for writing and printing paper. It is one of the best vermicidal herbs. It is also used for coloring foodstuffs and beverages.