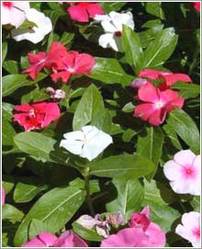 Botanical Name : Vinca Rosea
Family Name : Apocynaceae
Common Name : Periwinkle, Madagascar Periwinkle, Sadabahar
Part Used : Leaves, Roots
Habitat : Grows throughout india and found as an escape in waste places and sandy tracts
Product offered : Seed,Root,Wholeplant,Leave
Uses :
Its alkaloids are Hypotensive, sedative and have tranquilising properties and are anti cancerous. It helps in relieving muscle pain, depression of central nervous system and wasps stings. It is used in case of nosebleed, bleeding gums, mouth ulcers and sore throats. It is also used internally for loss of memory, hypertension, cystitis, gastritis and enteritis, diarrhea and raised blood sugar levels.