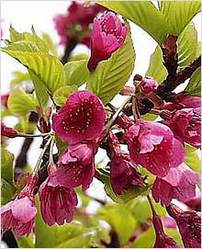 Botanical Name : Prunus Cerasoides
Family Name : Rosaceae
Common Name : Wild Himalayan Cherry, Dwarf Cherry.
Part Used : Fruits, Bark
Habitat : Present in himalayas from himachal pradesh to southwest china forests at altitude of 1,200-2,400 m.
Product offered : Bark
Uses :
The fruit is astringent, and digestive. The juice of bark is applied externally to treat backaches. Also, dark grey to green dye can be obtained from the fruits. Heartwood is moderately hard, strong, aromatic, astringent, bitter, acrid, refrigerant, antipyretic and tonic. It is useful in vitiated conditions of pitta, burning sensations, sprains, wounds, ulcers. leprosy and skin decolourations. It has action similar to olive oil and is used in emollient preparations including nourishing creams, skin creams and cold creams. Powered shell charcoal is used as tooth powder.