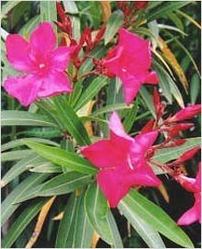 Botanical Name : Nerium Indicum
Family Name : Apocynaceae
Common Name : Indian Oleander, Exile Tree.
Part Used : Roots, Leaves
Habitat : Cultivated throughout india.
Product offered : Leaves, Wholeplant, Stem
Uses :
Roots are bitter, acrid, astringent, anthelmintic, , stomachic, febrifuge, diuretic, emetic, expectorant, cardiotonic and anticancer. Useful in cardiac asthma, renal and vesical calculi, chronic stomache, joint pains, leprosy and ulcers. Leaves are powerful repellent. A decoction of the leaves has been applied externally in the treatment of scabies and to reduce swellings. The whole plant is said to have anticancer properties. The plant is used as a rat poison, a parasiticide and an insecticide. A green dye is obtained from the flowers. It is used in skin related problems and also helps in healing of wounds and also helps in reducing inflammation. It also helps in maintaining the normal body temperature.