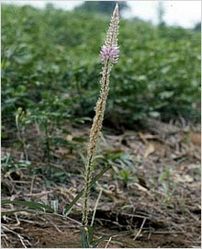 Botanical Name : Uraria Picta
Family Name : Fabaceae
Common Name : Dabra
Part Used : Roots And Leaves.
Habitat : Found in dry grasslands and open forests in the sub-himalayan tract from kashmir to west bengal and assam.
Product offered : Leaves, Wholeplant
Uses :
Uraria picta is one of the components of Dasamoola. Roots are in nature. They are mainly used for fracture healing properties. Its decoction is useful in cough, chills and fevers. Leaves are antiseptic in nature. They are mainly useful in gonorrhea.