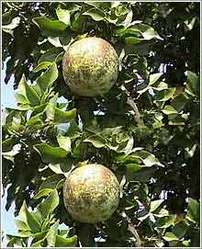 Botanical Name : Aegle Marmelos
Family Name : Rutaceae
Common Name : Bael, Quince, Apple Wood, Holy Fruit Tree
Part Used : Bark,fruit Pulp, Leaves.
Habitat : Found all over decidious forests in india.
Product offered : Fruits, Leaves, Bark, Fruit pulp
Uses :
It is antiscorbutic, carminative, alternative and nutritive. It is used in constipation, dysentery and diarrhoea. It is aromatic, astringent, cooling, febrifuge and also acts as tonic for heart and brain. Unripe & half-ripe fruits are used to improve appetite and digestion. Leaves are used for treating diabetes, jaundice, cholera, asthma and ophthalmia.