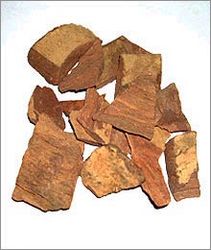 Botanical Name : Terminalia Arjuna
Family Name : Combretaceae
Common Name : Arjuna, Arjuna Herb, Arjuna Root
Part Used : Bark
Habitat : Through out india.
Product offered : Bark
Uses :
The bark is astringent, sweet, acrid, cooling, , cardiotonic, urinary astringent, expectorant, alexiteric and is useful in fractures, ulcers, cirrhosis of the lever, hyperhidsis, otalgia and hypertension. A decoction of the bark is used as wash in ulcers. It improves cardiac muscle function and pumping action of the heart.