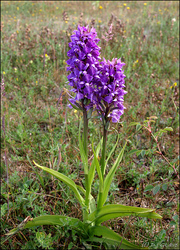 Botanical Name : Dactylorhiza Hatagirea
Family Name : Orchidaceae
Common Name : Marsh Orchids
Part Used : Roots, Tubers
Habitat : Temperate to alpine regions (2500 - 5000 m asl) in himalayas.
Product offered : Roots, tubers
Uses :
Tubers are used as nervine tonic and . It is also used to treat cuts, wounds, cough and anemia. Salep, obtained from the tubers, is used as a sizing material in the silk industry in Kashmir.