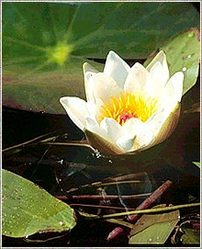 Botanical Name : Nymphaea Lotus
Family Name : Nymphaeaceae
Common Name : White Lotus, White Water Lilly
Part Used : Flowers, Roots, Leaves, Stem
Habitat : Through out warmer parts of india, in tanks, ponds and ditches
Product offered : Flowers,Roots,Leave
Uses :
The rhizomes is cooling, sweet, bitter and tonic and is useful in diarrhoea, dysentery, dipsia and general debility. The flowers are astringent and cardiotonic. The seeds are sweet, cooling, constipating, , stomachic and restorative. It has found uses both as a culinary delight and starchy food staple as well as being used internally as a treatment for gastrointestinal disorders and jaundice. Leaf is used in cutaneous, subcutaneous parasitic infection, eye treatments, and pregnancy. Seeds are used in sauces, condiments, spices and flavorings.