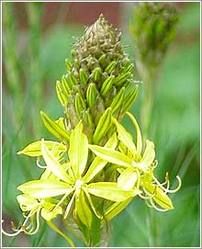 Botanical Name : Chlorophytum Borivilianum
Family Name : Liliaceae
Common Name : Safed Musli
Part Used : Seeds
Habitat : Northern and western india.
Product offered : Roots, Tubers of all grades, Planting material
Uses :
Aphrodasiac, tonic, pain reliever and used to cure general debility and impotency. Its powder increases lactation in feeding mothers and lactating cows. It is being increasingly used in Ayurvedic and Pharmaceutical Industries. Used as a Curative for Natal and Post-natal problems. Also used as remedy for diabetes and arthritis.