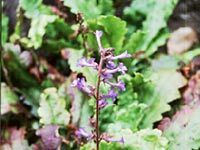 Botanical Name : Picrorhiza Kurroa
Family Name : Scrophulariaceae
Common Name : Picrorhiza, Kutki
Part Used : Dried Rhizomes
Habitat : In the himalayas, from kahsmir to sikkim at elevation of 2700-4500 meters
Product offered : Dried rhizomes
Uses :
Its usefulness as a laxative, liver-stimulant, improving lactation, appetite stimulant, febrifuge and as beneficial in bronchial asthma. The plant and its formulations are widely used in therapy of epidemic jaundice. Clinical studies including double-blind trials have been carried out with the root powder of the plant in patients with viral hepatitis with significant improvement in symptoms like anorexia, nausea and vomiting. There was a concurrent improvement in liver functions. Open trials in bronchial asthma have given encouraging prophylactic response with prolonged administration. It is bitter, carminative, digestant and has a cooling effect and is used as a cardiotonic, antipyretic and anthelmintic. It is also used in diabetes, jaundice, blood disorders, hepatomegaly, liver and spleen disorders and skin disorders.