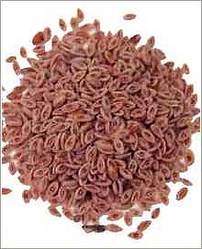 Botanical Name : Plantago Ovata
Family Name : Plantaginaceae
Common Name : Psyllium Husk, Psyllium Seeds, Plantago, Ispaghula, Fleam, Spogel Seeds, Isabgol
Part Used : Husk, Seed
Habitat : Psyllium husk, psyllium seeds, plantago, ispaghula, fleam, spogel seeds, isabgol
Product offered : Hull
Uses :
It is diuretic, emollient and cooling. Used in inflammatory conditions of mucous membrane of gastro intestinal and genitourinary tracts. Very well known as a laxative. It restores proper bowel movements and used in treatment of chronic constipation, amoebic and bucillary dysentery. Psyllium husk and seeds are formal Pharmacopoeia. Crushed seeds made into a poultice are applied to rheumatic and glandular swellings. The seed mucilage is used in cosmetics and as a basic stabilizer in ice cream industry.