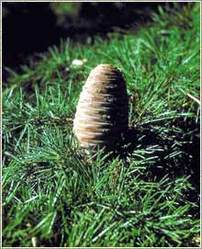 Botanical Name : Cedrus Deodara
Family Name : Zingiberaceae
Common Name : Cedarwood, Cedarwood Oil
Part Used : Rhizomes
Habitat : Grows wild in damp deciduous forests
Product offered : Leaves, Wood, Oil
Uses :
Bark of the herb is a good remedy in remittent and intermittent fevers, diarrhea and dysentery. The powder is used in the treatment of ulcers. It is particularly valuable for the treatment of bilious fevers and inveterate diarrhea arising from atony of the muscular fiber. Cedarwood oil, extracted from the herb, is used for catarrhal conditions of the respiratory tract. It is an expectorant. It is also useful for ulcers and skin diseases. Cedarwood oils each have characteristic woody odours, which may change somewhat in the course of drying out. The crude oils are often yellowish or even darker in colour and some, such as Texas cedarwood oil, are quite viscous and deposit crystals on standing. They find use (sometimes after rectification) in a range of fragrance applications such as soap perfumes, household sprays, floor polishes and insecticides. Small quantities are used in microscope work as a clearing oil. In India, Cedrus deodara oil has been shown to possess insecticidal and antifungal properties and to have some potential for control of fungal deterioration of spices during storage. Decoration of the wood is used in the treatment of fevers, flatulence, pulmonary and urinary disorders, rheumatism, piles, kidney stones, insomnia and diabetes. The leaves are bitter, acrid, thermogenic and are useful in inflammations and tubercular glands. However, its commercial use for this purpose remains, at present, speculation.