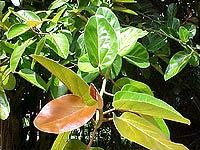 Botanical Name : Ficus Benghalensis
Family Name : Moraceae
Common Name : Banyan, Vada Tree, Indian Banyan, Figuier Des Pagodes, East Indian Figtree
Part Used : Aerial Root, Bark, Leaves, Buds, Fruits, Latex.
Habitat : Throughout india from sea-level to 1200 m.
Product offered : Leaves, Seeds, Whole plant, Fruit
Uses :
According to Ayurveda, it is astringent to bowels and very useful in treatment of biliousness, vaginal complains, fever, ulcers, erysipelas, vomiting, inflammations and leprosy. According to Unani system of medicine, latex is maturant, lessens inflammations, , tonic, vulernary and is useful in piles, nose-diseases, gonorrhea etc. The aerial root is styptic and is useful in syphilis, biliousness, dysentery and inflammation of liver. It acts as an astringent, antidiarrheal, antidysenteric, hemostatic and antihemorrhoidal. The tree is widely planted for shade and its leafs are used for fodder.