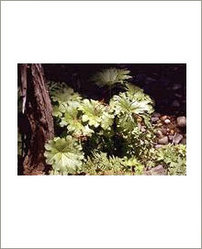 Botanical Name : Rheum Emodi
Family Name : Polygonaceae
Common Name : Rhubarb, Himalayan Rhubarb, Indian Rhubarb, Thuzna, Revat Chinni
Part Used : Seeds
Habitat : Throughout the valleys in himalayan region at altitude of 3200m -5200m.
Product offered : Roots
Uses :
Used as purgative and astringent tonic. Its stimulating effect combined with astringent properties renders it specially useful in atonic dyspepsia. The tuber is used in biliousness, sore eyes and fever. It is also used as blood purifier.